If this summer seems a little more hot pink than usual, don't worry, you aren't drinking spiked frozé. You're just living in a Barbie world, and witnessing one of the most all-consuming marketing juggernauts in recent history. The live-action Barbie movie is set to debut on July 21, marking the first time in its 60-year history that this extremely valuable piece of intellectual property will hit the big screen. To celebrate and promote the occasion, Barbie is collaborating with over two dozen brands. Everything from Polaroid cameras to scented candles to an actual Airbnb have been treated to a signature pink glow-up.
Included in this cultural takeover are at least three video game tie-ins — crossover events with Candy Crush Saga, Forza Horizon 5, and Stumble Guys. The sheer randomness of these titles makes us wonder: why these three games? Do they align with Barbie's core audience?
The State of IP in the Gaming Industry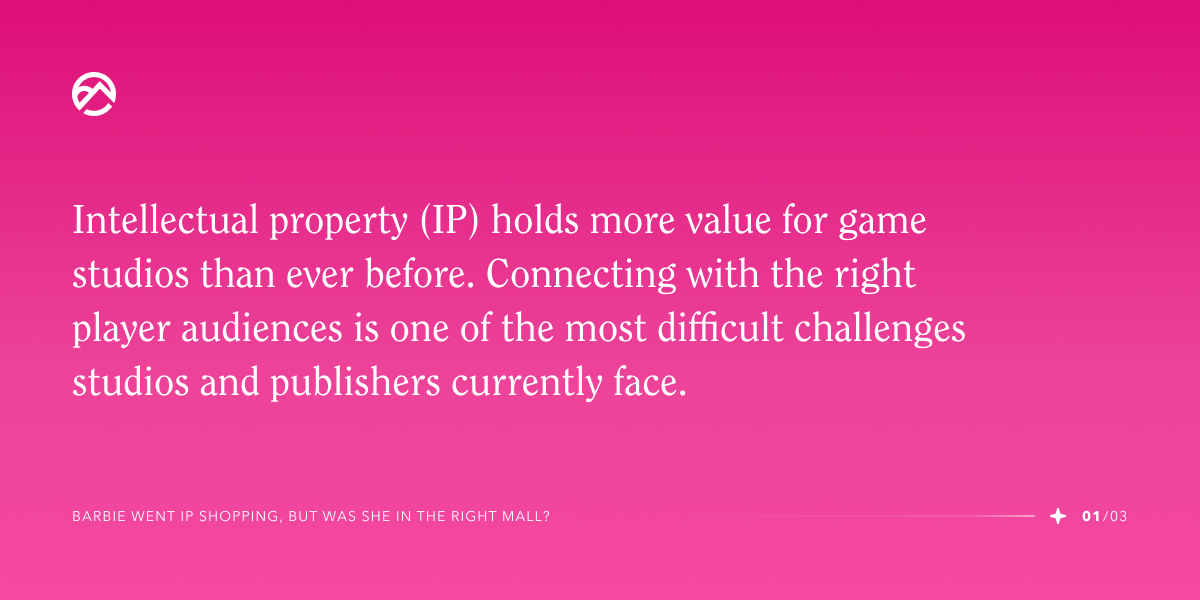 Intellectual property (IP) holds more value for game studios than ever before. Connecting with the right player audiences is one of the most difficult challenges studios and publishers currently face, and leveraging well-known IPs can be a profile-boosting shortcut to attracting players. The depreciation of IDFA (Identifier for Advertisers) has made IP one of the primary methods of less expensive acquisition studios can use.
However, this approach comes with its own set of challenges.
Strong IP will almost always attract an enthusiastic fanbase of players, which justifies the sizable investment that many studios are willing to make to secure that IP. The bigger the IP, the bigger the licensing investment. But delivering a compelling gameplay experience to that fanbase has proven to be hit-or-miss with many IPs. After a jubilant D1, many teams are left wondering "what the heck happened?" by D7.
Iconic IP can lead to low CPIs and high installs, but a poor experience can result in low ROAS and high churn rates.
Every game developer wants to create experiences that resonate with the IP's most valuable audience — its fanbase. The best experiences tap into player psychology and the motivations that inspire their behaviors as players and as fans. Dialing into what is inspiring to players is one of the most exciting features of Solsten's Navigator. Navigator empowers consumer insights and game leads to identify the market potential of existing audiences behind any IP. Delving into their gaming preferences, player motivations, psychological traits, and cultural interests opens a world of possibilities to create engaging gaming experiences.
Examining the Barbie-Themed Events
With the power and perils of leveraging IP in mind, let's take a closer look at the three Barbie-themed events playing out across the gaming industry:
Stumble Guys
Stumble Guys has swapped in a Barbie-inspired app icon and is channeling hot pink vibes over a 12-day limited event featuring two levels — Barbie Malibu Mayhem and Barbie Dream Challenge. Players have the opportunity to earn Barbie coins, which can be redeemed for items like a Barbie Fan Guy avatar skin.
Forza Horizon 5
Forza Horizon 5 is offering all players Barbie's 1956 iconic Chevrolet Corvette EV and the Ken 2022 GMC Hummer EV Pickup in their Message Center. The game is also holding an in-game UGC contest with themes revolving around the joy, wonder, and adventures of Barbie, giving players a chance to win a Barbie prize pack.
Candy Crush Saga
Candy Crush Saga is rolling out four Barbie-themed events, each lasting one to four days through the end of July — Barbie Quests, Winding Road Tour, Barbie Collection, and Barbie Leaderboard.
What Does Navigator Know About Barbie's Audience?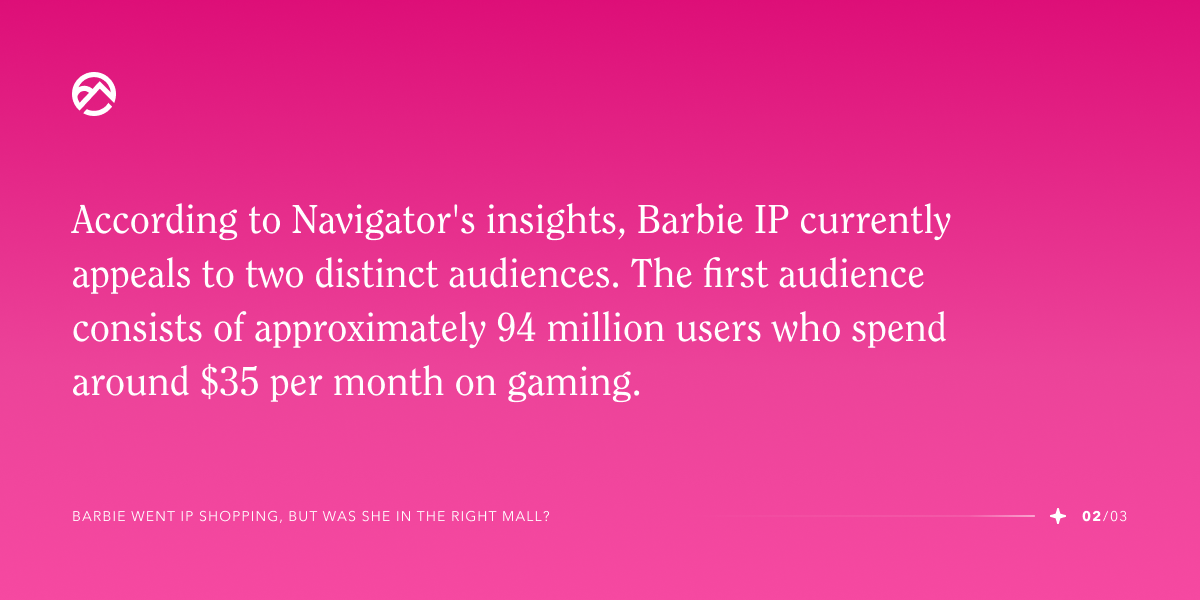 According to Navigator's insights, Barbie IP currently appeals to two distinct audiences. The first audience consists of approximately 94 million users who spend around $35 per month on gaming. Their most popular genre is matching games, accounting for 27% of their preferences, followed by building simulation at 8%. Interestingly, car racing doesn't even rank in the top five genres for this audience, with only one car-related game making it to their top 50 most-played games.
Navigator reveals that almost all of this audience's top 10 favorite movies and TV shows are Barbie-related. Candy Crush Saga is their favorite game, and they enjoy competing only while collaborating with a team. One unique aspect of this group is their high rank in the 90th percentile for community involvement, making community engagement a key focus for optimal outcomes. This audience also prefers easier games, ranking in the 90th percentile when it comes to game difficulty, which can be a significant market advantage to design for.
Do These Events Align IP With Audience?
The collaboration with Candy Crush Saga is a true no-brainer since it perfectly aligns with Barbie's primary audience — it's their favorite game, after all. Our verdict? Aligned.
The other two events aren't as clear-cut. At first glance, Stumble Guys and Forza Horizon 5 may not seem like a natural fit for Barbie's audience. But look a bit longer, and you'll see that the lack of overlap is clearly the point. Barbie's collabs outside of gaming indicate a strong intent to reach a demographic beyond their traditional audience — a provocative approach. In gaming, they're doing the same.
After all, guys go to movies in droves, and Barbie is cast to perfection with actor appeal across demos. Every cosplayer worth their weight in spandex bodysuits knows that Margot Robbie played Harley Quinn in the Suicide Squad films. Will Ferrell and Michael Cera's involvement lets every millennial male know this movie wasn't just made for Barbie girls.
So why not take the provocative approach further? If Mattel and Warner Bros.' really wanted to venture beyond a traditional fanbase, why not unleash Barbie's inner demon slayer with a Diablo 4 collab? Who could resist watching hell's demons spew hot pink flames while goblins scurry around the underworld in plastic heels?
Our guess is that the unconventionality works both ways. Forza probably wouldn't mind growing their base of female players, and some segments of Barbie's broad fan base just might be into cars and performance. After all, the Barbie Corvette is timeless for a reason. What game wouldn't want to attract a few status-conscious women who love iconic brands?
Using Navigator to Craft the Ideal Gaming Crossover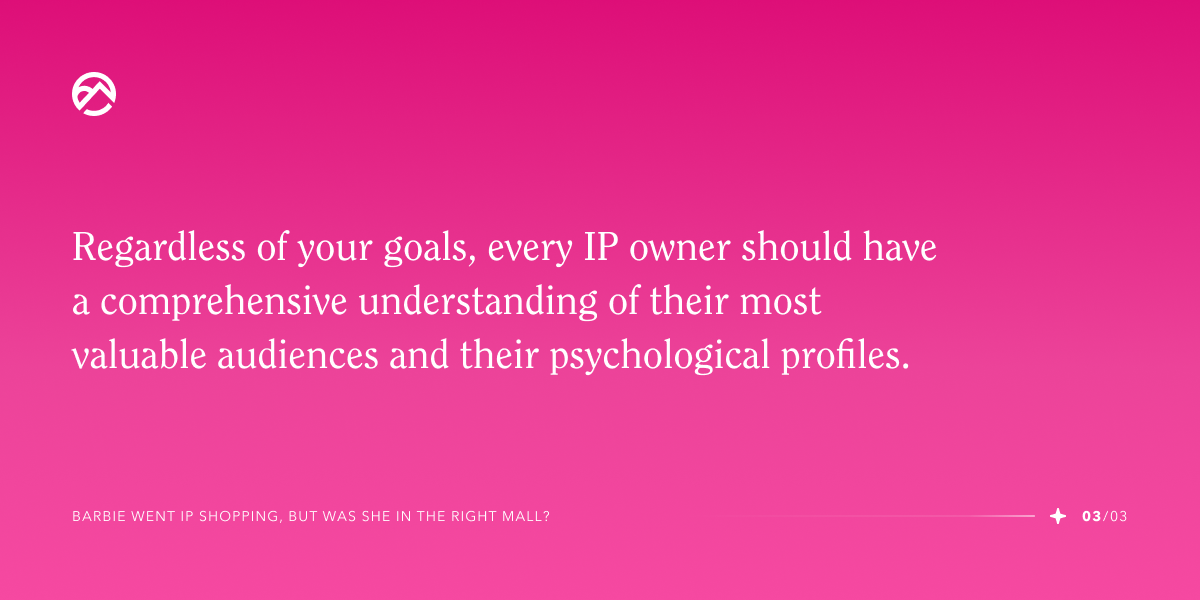 Regardless of your goals, every IP owner should have a comprehensive understanding of their most valuable audiences and their psychological profiles. Navigator plays an invaluable role in this process, identifying inspiring and provocative collabs that motivate high-value players.
Whether you're working to target your IP's core audience, or an audience that is characteristically opposite, it's essential to have a strong grasp of your audience's motivations, preferences, and even their communication styles to make sure your experience attracts and retains them over time. This potent data gives you the power to make informed decisions about collaborations and marketing strategies that make a long-term impact on your game's performance.
Navigator is a human insights engine powered by the largest psychological database in the world. It instantly unlocks insights that get to the human core of your IP's audiences, like their motivations, values, hopes, and communication styles. You can analyze the hundreds of scientific factors that influence their behavior, and tap a wealth of knowledge relating to their favorite games, genres, brands, tech, and beyond. It's like instantly gaining access to the voice of your customer.
Will the Barbie Audience Change?
With the massive marketing blitz surrounding Barbie (and positive early reviews), there's a strong chance that the audiences of Barbie IP fans will look vastly different in the coming weeks. As we've seen with Navigator's audience insights, gaming preferences and demographics can evolve over time, just like an actual audience. If we observe any interesting changes, we'll explore how launching a new IP-driven movie can attract audiences in a follow-up article.