Solsten is proud to be the first company measuring human psychology at scale. Our consumer insights engine empowers companies to unlock creative and business potential unlike ever before. We are honored to be recognized as one of Fast Company's 100 Best Places to Work for Innovators.
It is our mission to understand the true nature of humanity so that technology and AI can deeply understand and adapt to human beings in a way that enables our human potential; this empowers businesses to build next-generation experiences that go far beyond our current expectations. With Solsten, creators can place human-centric design at the heart of their products, unlocking revenue and growth while prioritizing user health.
It's the innovators at Solsten — over 60 employees representing 25 nationalities — who are bringing this mission to life.
The Collaboration of Technology, AI, and Humanity
AI is powering a tech boom reminiscent of the internet in 1995. The proliferation of "AI-powered" solutions has made it tough to distinguish true trailblazers from buzzword followers. It also presents a moral challenge, as much of the AI boom threatens the integrity of creativity. Innovators are flocking to Solsten for these exact reasons. We're using AI and machine learning to unleash human creativity, not replace it.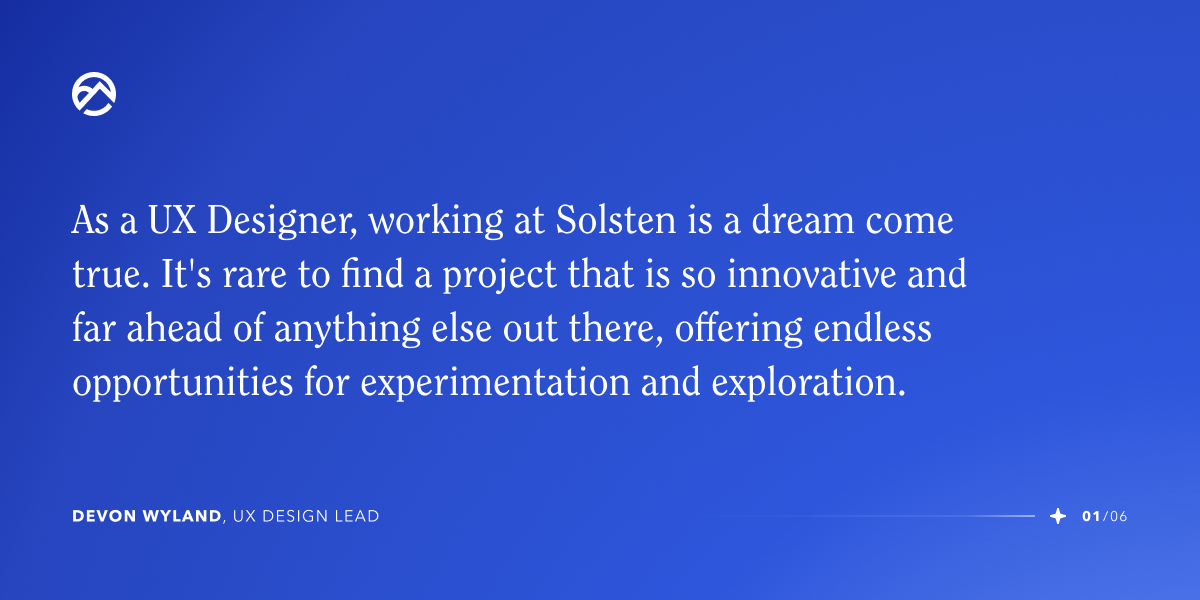 Devon Wyland, UX Design Lead at Solsten
"Solsten is truly remarkable. Since day one, I've witnessed the power of innovation in action as we carved our own path toward an ambitious vision that many deemed impossible. As a UX Designer, working at Solsten is a dream come true. It's rare to find a project that is so innovative and far ahead of anything else out there, offering endless opportunities for experimentation and exploration. Moreover, I'm grateful to be part of a company that genuinely prioritizes our customers' needs and the well-being of those affected by our customers' products. At Solsten, UX is not an afterthought but embraced and valued, eliminating the need to fight for recognition as I've experienced elsewhere."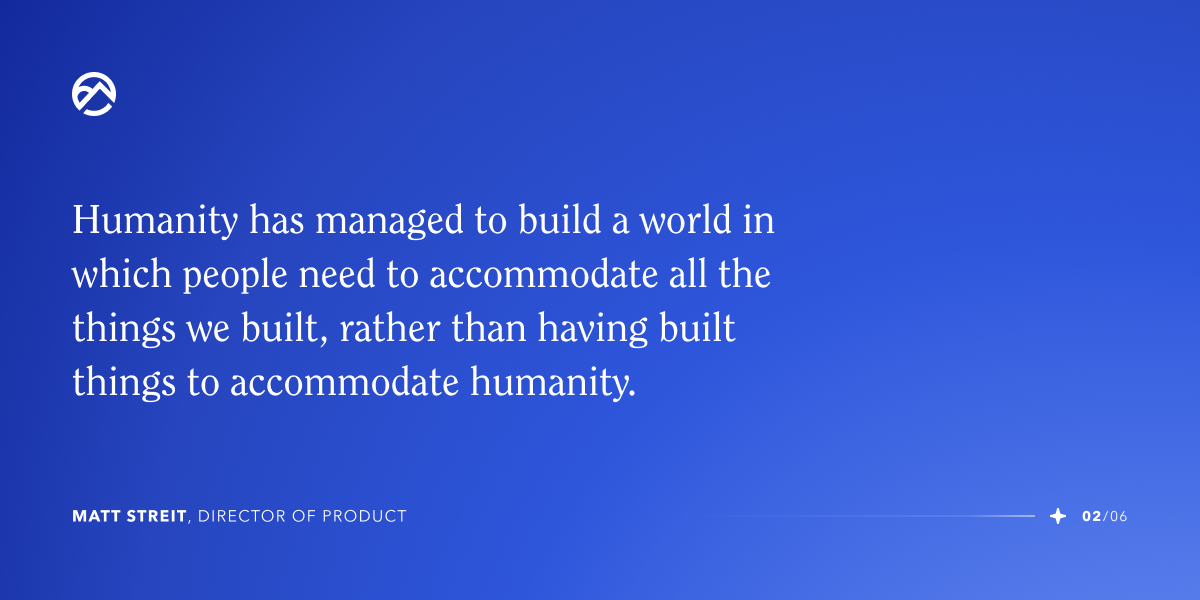 Matt Streit, PhD, Director of Product at Solsten
"Humanity has managed to build a world in which people need to accommodate all the things we built, rather than having built things to accommodate humanity. At Solsten, we're leading the charge in changing that by providing every creator with the deep insights they need to understand who they are creating for. Building that deep reservoir of knowledge requires doing a lot that no one has done before, from deeply understanding individuals at scale to identifying the 'why' behind people's interactions. If you're looking for a challenge at the intersection of data science and human-centered design, then there's nowhere that compares with Solsten."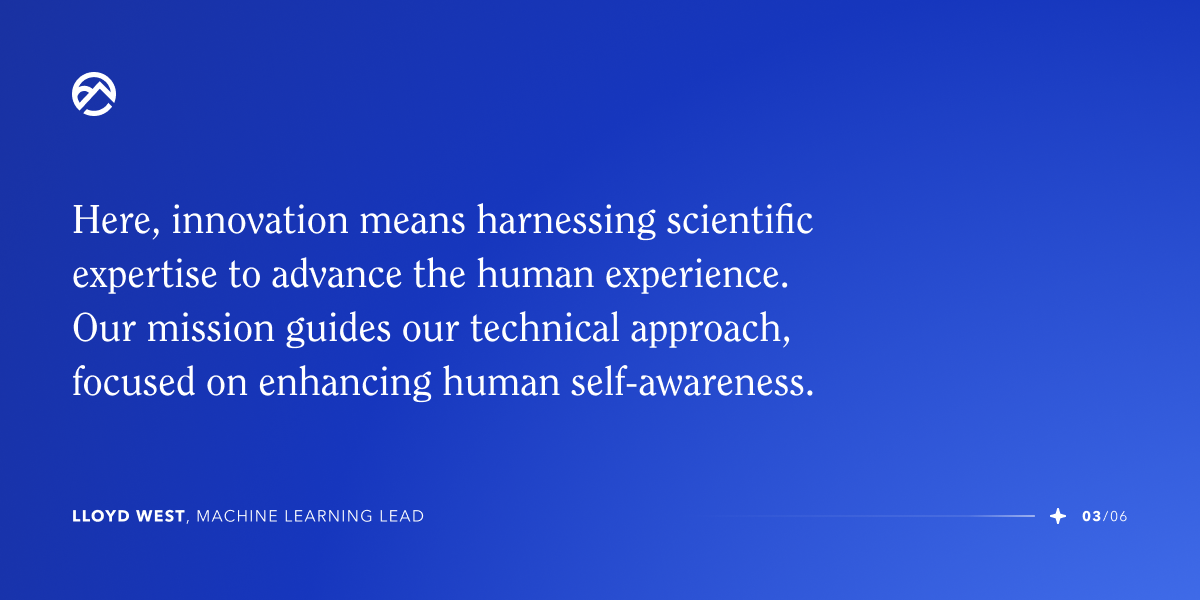 Lloyd West, Machine Learning Lead at Solsten
"Here, innovation means harnessing scientific expertise to advance the human experience. Our mission guides our technical approach, focused on enhancing human self-awareness. We strive to create solutions that generate understanding rather than relying on black-box techniques. With an interdisciplinary team spanning fields like games research, psychometrics, and particle physics, we embark on exciting endeavors, such as adaptive testing of personality traits en masse."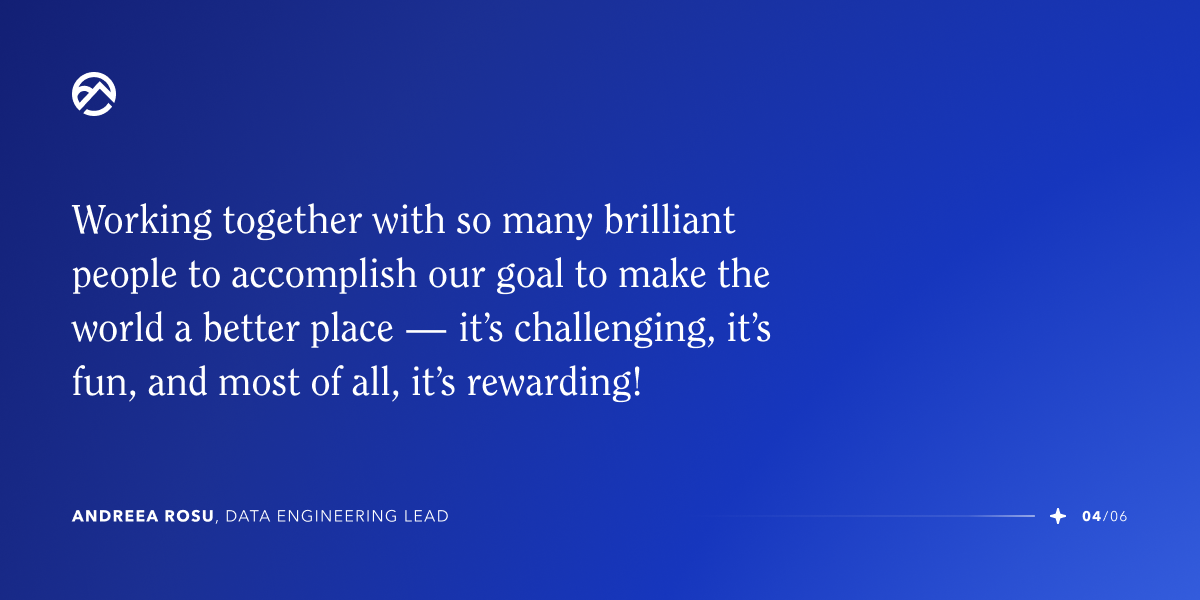 Andreea Rosu, Data Engineering Lead at Solsten
"Working together with so many brilliant people to accomplish our goal to make the world a better place — it's challenging, it's fun, and most of all, it's rewarding!"
Julian Provenzano, Psychometrician at Solsten
"In my view, the most enabling feature of Solsten is the highly competent and motivated team fostering a culture of exchange and collaboration in our work towards a shared vision, while leaving space for ownership and autonomy."
Solsten's Impact on the Gaming Industry
Solsten's journey began in 2018 when Joe Schaeppi and Bastian Bergmann founded the company with the vision of unlocking the value of human understanding. What started as a dream to make technology more meaningful and human has evolved into an innovative powerhouse for the gaming world and beyond. Combining the power of machine learning, AI, and adaptive psychometric assessments, Solsten measures human psychology on a massive scale and provides actionable insights for optimal digital experiences.
Today, our human-centered mission aims to create a world where digital reality can compel our greatest potential as humans, rather than command our greatest weaknesses. By advancing the human experience, Solsten empowers companies to build deeply resonating and healthier human-centered experiences. The intersection of play, psychology, and AI offers a suite of products that enable companies to understand and meet their audiences' experiential expectations, ushering in a new era of technology that is better for people and brilliant for businesses.
The Future of Innovation at Solsten
While Solsten has already made an impact in the gaming industry, we aspire to create a world where all companies build experiences using Solsten's technology. This vision means more inspiring experiences for creators, more engaging interactions for consumers, and more profitable outcomes for businesses.
As Solsten continues to grow, nurturing the culture of innovation remains our top priority. Being an invigorating place to work for innovators means fostering a culture of listening, learning, sharing, and growing. Curiosity, hunger for knowledge, and excitement drive this culture forward. While Solsten's mission fuels the company, it is the people at Solsten who embody and propel that mission into reality.